The Aisle Seat: Fort Lauderdale
Posted on 2008-06-13 00:00:00 by David Hartogs
North America | Fort Lauderdale: More accurately this will be a description of Fort Lauderdale Beach with some downtown Fort Lauderdale thrown in. I had the pleasure of going to Fort Lauderdale for a conference on Memorial Day. I was not looking forward to this trip for a variety of reasons. Fort Lauderdale was not a place I would consider going had it not been for work for some lame reasons. However I have to admit I had a very good time in there despite the conference work and would gladly go back again if I had to. Usually when I travel I do a little research on where to go and what to see etc. This trip I kept putting it off and never really did do much advance research and just did things as they happened, and it turned out to pay off big time. Spontaneity is a great when it comes to travel.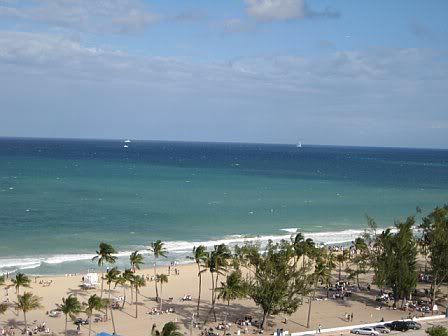 View of Fort Lauderdale Beach
I arrived on Fort Lauderdale Beach on the evening of Memorial Day tired from a long day and just hoping I would get there in time to jump in the water. What I saw on the beach was very comforting. The beaches I go to you don't see a whole lot of big picnics and family gatherings. There was a beach park in front of my hotel with basketball courts, a workout area and about a dozen public barbecues. The beach was full of families and smells of charcoal and everyone was having a blast. It wasn't just families of 4, it was cousins, aunts, uncles, everyone. The beach was hopping and it was 6:30 in the evening, with every type of cooler, beach chair, meat item you can think of. It was definitely a community vibe on the beach and even though I was spectator I couldn't help but have warm thoughts.

Nice shack!
I stayed at the Bahia Mar Hotel, (801 Seabreeze Blvd.). This slightly outdated hotel has an excellent location, with walking distance to the "board walk" area and a bridge across the street directly to the beach. The hotel is surrounded by water so you are likely to have a great view. The pool area was decent but they had a nice bar there, which was great for getting a nice cold drink and sitting by the pool. My room was nice and spacious, the only problem was that when I went to shower in the mornings there was no hot water left. The hotel was only at 54% occupancy (I snooped around the front desk and spotted a notice for employees that said what their occupancy was) so I guess they must have a small water heater. The hotel also has a deli/market that makes good breakfast sandwiches and is decent place to stock up on a few sundries. Within a few minutes walk from the hotel on the Inter-coastal side are boat slips with several charter fishing boats lined up vying for your business.
Ocean Front Dining
There are a couple of areas that have a plethora of bars and restaurants catering to locals and tourists alike. The first area I will discuss is the waterfront, board walk area (or whatever you want to call it yourself). There are countless bars and restaurants offering a variety of different atmospheres. You can dine outside on the walks with a nice view of the beach and a lively atmosphere. From south to north as the A1S turns from Seabreeze Blvd. into the one way street of Ft. Lauderdale Beach Blvd. you will approach the beginning of the scene. One of the first spots, is a notable bar the Elbo Room, 241 South Fort Lauderdale Beach Blvd, this two story "World Famous" open air bar is always packed with revelers. I say world famous because everywhere I look establishments boasted that they were world famous. I consider myself a decently traveled man and have never heard of any of these places. Maybe I need to get out more.
Of the restaurants I went to, one was called Sangria Café, I went in search of Sangria and Spanish food and found neither. Perhaps it's false advertising. The food was mediocre, do not pay $5 for the chips and salsa, the chips are stale and the salsa is worse than Tostitos brand. Further down Fort Lauderdale Beach Blvd. you will get to 17 S. Fort Lauderdale Blvd. The Beach Place houses a number of dining and drinking establishments. Spread out over 4 stories. Most of them have ocean view dining. Places include Sloppy Joe's, LuLu's, Fat Tuesdays, Hooters, Howl at the Moon, and a Palm grill. All of the places are a very relaxed and entertaining watering holes where you can enjoy loud music or sit by the balcony and watch the scene unfold on the beach. Food is pub fare at best, aside from the Palm Grill, the high end steak house. If you are in town for just a couple of day check this area out. If you don't like one place walk 30 feet to the next. Word of caution, the parking garage is very expensive. Take a cab there and back. Don't worry about drinking and driving. The yellow top cabs are easy to find as they overtly advertise the strip clubs in Fort Lauderdale. If you drink enough you may have the urge to ask about them.
Las Olas Blvd
The next part of town and perhaps the more well known and more upscale area is Las Olas Blvd. Las Olas runs from the ocean through the downtown area where there are many restaurants and pubs as you get into Downtown Fort Lauderdale. You are no longer at the beach but it is still a very nice area. If you go down Las Olas you'll pass historical mansions, canals and yachts that are worth millions. If you have the time, it's an interesting walk and worth taking. I only ate at two restaurants here, the first, an Asian fusion place with more of a slant towards Chinese, Wild East 1200 E Las Olas Blvd). Prices are a little high but portions are very big and the food is good. If you want something a little different this is a good place to go. I got a very nice sea bass.
The next place I went had to one of the best meals I have had in a long time. Timpano's Chop House, (450 E Las Olas Blvd). I have come to find that they had a few locations around the US, but I'll let that slide. For starters, I had the best mussels I have ever had. Fire roasted on a skillet with sea salt and olive oil. You could taste the fire. The steak was excellent, not the best I have ever had but somewhat close to it. The atmosphere was what you would expect from a steak house with a mix of Italian thrown in. Fun lounge singer and a good wait staff. Food comes fast but not too fast. If you want a solid meal and are on an expense account like I was, go for it. There are other steak houses on Las Olas, that I have heard are good so trust your instinct and head to one.
Crabs
I desperately wanted crabs when I went. I heard about a place that was near the airport, I was told it was world famous but I had never heard of it. This place was rustic, right on the water way, and if it is crabs you seek, it is crab you shall get. Located at 4331 Ravenswood Road, http://www.rusticinn.com/ take a cab or get a GPS thing. I went in the off-season and only had to wait for about 10 minutes. Get a few beers and wear some grungy clothes because they will get messy. They have other things on the menu but I'll stick to the crab. You can get about 7 different varieties of crab steamed and sautéed in garlic butter that will make your mouth water. I got a sampler platter, that and along with every other platter I saw was absolutely massive. It's pricey but you get what you pay for (how often does that happen). This place is loud though, especially if it is someone's birthday. Prepare for a mallet beating on the tables so loud you'll think you are being invaded by midgets with firecrackers. If you like potatoes that can swim in butter then you'll like the side dish with the crabs.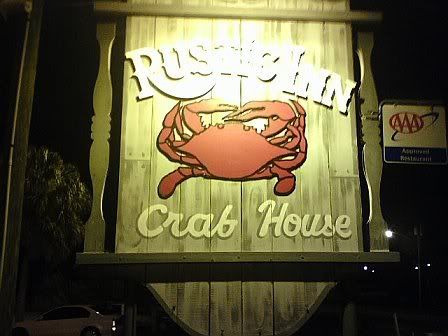 Find this sign and you shall have crab
All in all I had a very nice time in Fort Lauderdale. It's not a place I would go to often, but as a conference goes I would welcome the chance to go back. With it's proximity to the Everglades, Miami, and the Bahamas it's a convenient place to spend a few days. As you can tell from this post it's not the most interesting place but they all can't be. Look for my next column on a small town in Mexico.
©2008 StrayCompass.com and Agile H Productions, LLC | Site Map